NEWS
Celebrating a Life Lived to the Full
For nearly a century Sr Grace lived life to the full.
A pioneer, she knew how to draw the best out of people as this account of her life shows.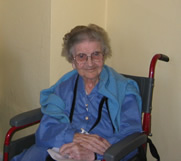 Grace Major, March 1909 – March 2008
Grace Major was passionate about life, passionate about God and passionate about people! Born the eldest of three girls in Tiverton, Devon in 1909, her earliest memories were of a happy country childhood. However, the most vivid memory is that of the morning of 14 th August 1914. She was sitting at breakfast with her father when he read that war had been declared and he joined up later that day leaving her mother to look after three small children and two businesses. Sadly, both marriage and businesses ran into difficulty, and her mother, who had been one of the first students at Homerton College, Cambridge, returned to teaching. Obtaining a post at Otterford, Somerset, Mrs Major and her daughters went to live at the School House on the top on Blackdown Hill. Grace always looked back on the years in Otterford with great affection. She delighted in watching her mother at work in the school and was certain the seeds of her own vocation to education had been sown there.
Although the family were not churchgoers Mrs Major had been interested for some time in the Catholic Church and in 1920, when she was received into the Church at St George's Taunton, Grace and her sister Mary chose to be baptised with her. This meant transferring from school in Taunton to St Joseph's, Clifton, which was passed to the Sisters of La Retraite in 1924. School days were happy times for Grace and all she wanted was to follow in her mother's footsteps: to go to college and teach in the East End of London.
In 1927 she began her training at La Sainte Union College, Southampton but along with her vocation to teaching she was also surprised to discover a call to religious life. Her mother gave her her blessing but asked her to wait a year after qualifying as her sister Audrey was leaving for Australia. This gave Grace the opportunity to fulfil the second part of her dream and teach in the East End, but sadly it also meant a final and total rejection by her father who was completely against the idea of her entering a convent.
Throughout this period Grace kept in touch with the Sisters of La Retraite. In 1930 she went to Angers, France, for her novitiate and it was as Mother Mary Joseph, in September 1932, that she returned to London and to her beloved teaching. Like her mother Grace was not simply a teacher but an educator, a visionary who enjoyed a challenge and relished the opportunity to push for improvements. She spent thirty-five years teaching and as Head of two schools; St Anselm's, Tooting Bec (1951 – 1959) and Corpus Christi, Weston-Super-Mare (1959 – 1966), where she was particularly in her element.
Throughout the 1930s teachers at the Weston Parish School had done their utmost to keep the school open but in February 1938 there were only 38 children on the roll and 16s.8d to pay for books and stationery for the rest of the year. It was urgent to push for both recognition and state-funding but in 1939, with the world again at war all such plans had to be shelved. Meanwhile there was a school to be run! The children who could afford it were asked to pay 1d a week and driftwood was collected from the beach to supplement the coal in the open fires! Evacuees were welcomed from London, together with their often qualified staff, and within a year the Inspector claimed the school to be prima facie case for recognition – provided a new school could be built! Thus when in 1945 the War was over, the years of struggle for a new building was only just beginning! It was not until 1951 that the Diocese of Clifton acquired the site in Ellenborough Park and not until 1961 that it was finally opened. This was more than twenty years after the original application and approval and in good measure thanks to Grace's feisty spirit: she refused to be daunted by bureaucracy or pettiness, from state or religious authorities, where the education of children, and particularly the most vulnerable of them, was at stake!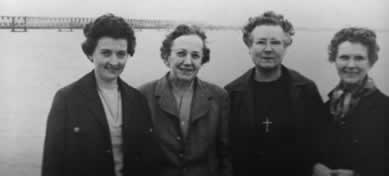 The four foundresses in Chile
In 1966, despite the sadness of goodbyes to so many good friends, Grace was thrilled to be asked to be one of four founding members of the first La Retraite community in Chile. Thrown into life at the deep end in the shanty town of Talcuahano, Grace came up smiling! Acting as house-mother to a group of older girls she was able to draw on her life's experience as an educator and give them all the loving attention they needed. The experience also convinced her of the vital role of education if conditions were to improve in the long-term and structural changes be brought about. Before leaving England the British Council had invited her to join their Education Team in Santiago and in 1969 she took up their invitation. As a British Council Primary School Adviser she travelled the length and breadth of Chile, coordinating the work of the Chilean teachers and delighting in the country and its people. However in the deteriorating political situation in Chile there were fears for the projects established by both the British Council and the CIDE (Centro de Investigación y Desarrollo de Educación), with whom she also had contact. She asked to have a short stay in Europe to reflect on the situation but her religious superiors asked that she return for good. It was a bitter blow for Grace but once again she rose to the challenge and discovered yet another new world before her.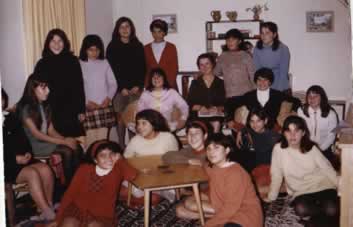 Life in Chile with the older girls
A course in educational broadcasting run by the B.B.C. in Southampton seemed a good way of continuing her educational work, and it was during this course that Grace received an invitation to join the Bishops' Commission for Justice & Peace. She became Convenor of the Education Working Party and travel in Chile was replaced by travel the length and breadth of the British Isles as well as further afield, giving talks on development education. Together with other religious congregations she also worked towards the setting up of the Justice & Peace Links Group for Religious.
Links were of course maintained with friends in Chile especially those tortured and imprisoned during Pinochet's dictatorship, and help given to refugees arriving in London. In 1976 a stroke brought a temporary halt to Grace's activities but although recovery brought a change of community and new job as school bursar in Salisbury, she was still able to continue her beloved Justice & Peace work. At this time, in the late 1970s she sat on the Education and Latin American Committees of Christian Aid, and then, after her return to London in 1982, took on the pastoral role of a 'Listening Ear' for the Staff.
As she grew older it was this role of 'listening ear' that became increasingly important and once more Grace was to be a pioneer, this time in 1988, when she choose to live alone in a sheltered flat in Clapham. Making community with the other residents she was delighted to find they included a good group of East Enders. She had never forgotten her first year of teaching there! It was also no surprise to any who knew her that she was asked to sit on the residents' committee at both local and regional levels!
In 1996 when the Sisters of La Retraite moved the sisters needing nursing care from London down to the Care Home in Burnham-on-Sea, Grace opted to move with them and return to Somerset, adapting to life there and once more offering support and friendship to those around her. It was here she died, the day after her 99 th birthday, on Easter Monday. Grace was not always easy to live with as she expected the same passion, the same high principles and commitment of others as she demanded of herself. It was part of who she was and what she was able to achieve, and went hand in hand with a depth of vision and great wisdom and understanding and, as she got older, increasing gentleness and humour. She was a great encourager, interested in her family, in her Sisters in La Retraite and in the lives of her many friends from all the various 'chapters' of her rich and varied life. How typical that her last words were "Give them all my love". May she rest in peace.
Moira McDowall, La Retraite, Galway
News Archives