NEWSmmm
Sr Morag Gardham lives in Smethwick in the West Midlands. She has a great knowledge and love of the history of La Retraite and the piece below is a summary of our history from our origins up to the present day that she wrote for Catholic Today, the newspaper for the Archdiocese of Birmingham.
The name of La Retraite reflects the spirit of our foundation, the spirit in which we wish to live and serve God in the world of today. A retreat is time apart to listen to God who" speaks to the heart" (Hosea 2) in order to return with renewed energy and focus to respond to the calls of the world. Mary was to be their model for this "especially in the life she lived after the Ascension of her Son, a life given to continual meditation in her retreat and to teaching the first believers and sustaining them in the faith". (Rule of 1703)
BEGINNINGS in BRITTANY
The story of La Retraite begins in 17th Century Brittany where people were recovering from a long period of civil war. Poverty was widespread, churches in ruins and little spiritual help available, especially for the poorer country people. Whilst a deep faith often remained, ignorance and superstition also flourished.
A Breton priest began to travel around bringing the Gospel to the people again. He was soon joined by others in this work and these missions became a great success. However, it was felt that something more was needed if the faith that had been re-kindled was to last.
RETREATS FOR MEN
Vincent Huby, who belonged to the Jesuit community in Vannes, had been part of these missions and believing that a retreat was the best way to help that new-found faith to be deepened, he began to offer the possibility of making an individually-guided retreat to one or two men he knew of. As the popularity of these retreats grew, he realised that a separate place was needed where a larger number at a time could make a retreat and so he opened a retreat house for men and its success was immediate.
BUT ALSO FOR WOMEN?
One of the people who helped to finance this retreat house was Catherine de Francheville who, after the sudden death of her fiancé, had put herself and her future into God's hands. She had made a retreat herself and seeing the numbers of men now making a retreat wanted to give the same opportunity to women. At first she made her own house available for this but as the demand grew she knew the next step was to open a retreat house for women. Did she ever realise the opposition she would face?!
Fr Huby had helped her discernment and backed her venture, but attitudes to women at the time were often such that many were shocked, considering that women should stay in their homes and that they were unlikely in any case to benefit from a retreat! And who was this woman? An ordinary laywoman - not even a nun!
It took years of patient determination before Catherine, together with a group of women who shared her vision, was finally able to open the first retreat house for women in Vannes in 1674. The success of these retreats grew and to assure their continuity Catherine drew up an Act of Foundation the following year and officially established a community dedicated to this work. It was to be "neither a religious community nor a purely secular community but sharing something of the nature of each… This was judged to be a fitting way of giving glory to God and of serving one's neighbour".
Later one of the retreatants in Vannes was inspired to start a retreat house for women in Quimper with the help of Fr. Huby.
REVOLUTION AND BEYOND
The retreats continued throughout the 18th Century until the time of the French revolution when the retreat houses were closed, the buildings appropriated, the little communities dispersed and one member of the Quimper community guillotined.
At the start of the new century, two women formerly from this community came together, hoping to restart the retreats but the civil authorities did not consider them to be "a work of public usefulness" and refused to sanction them. The top priority at this time of building a new society was seen to be the education of the young and so the two opened a poor school for girls, very few girls having access to any kind of education at the time. Eventually the value of retreats was recognised and they were restarted. The work of education continued and developed but met with setbacks later on, when anticlerical laws in France prevented Religious from teaching altogether. Some Sisters went to England and schools were opened in London and Sevenoaks.
During the 19th Century, La Retraite took steps to become a religious Congregation. Until now, the members kept their own names, made a yearly form of consecration and wore a simple lay dress. Some wished to keep things that way and there were good reasons for and against the change which, eventually did take place.
During the latter part of the 19th Century, the active role of La Retraite in the giving of retreats met with opposition and was eventually curtailed. The idea of women publicly speaking to other women about spiritual matters was unacceptable to many clergy who saw this as their prerogative. This would change again later.
NEW DEVELOPMENTS, 20th Century and TODAY
New foundations were made in England, Ireland, Belgium, the Netherlands and Italy. In response to an appeal by the Pope to aid the growth of young churches, particularly in Africa, La Retraite sent some Sisters to Cameroon. Later there was to a call to go to Chile and Sisters also worked for some years in South Africa and Mali. New ways of being alongside those less privileged in our own society in Europe were also sought.
Final profession of Servane in May 2015
and of Venance in December 2015

One of the calls to religious congregations made by Vatican II was to revisit the spirit of their origins. Retreats in the Ignatian tradition having, over the years, become solely preached retreats, the Jesuits now re-discovered the earlier way of giving an individually-guided retreat. Training courses were also offered and a number of La Retraite Sisters began again to take up this ministry, giving residential individually-guided retreats and ongoing spiritual accompanying.

The development of the individually-guided retreat in daily life made a retreat accessible to a much wider range of people. La Retraite, along with others, has been involved in these and in the training courses that followed. In this way many lay-people of different Christian denominations are able to bring their gifts and experience to this spiritual ministry.
| | |
| --- | --- |
| | Planting a tree at Emmaus House Bristol after an April gathering to reflect and share on Laudato Si |
La Retraite schools have gradually been handed over to competent lay leadership and other calls of today's world challenge us to live our vocation in new contexts, for example: working with and for asylum seekers and migrants; an international project based on the environment, engaging faith leaders and grass-roots groups; dance-movement therapy with people with disabilities; responding to new demands for adult formation as lay people take on a more active role in the church…
Our numbers have always been relatively small but, through the grace of God, La Retraite has kept going amidst the changes of nearly 350 years. No human being or organisation knows what the future holds but we want to live the present as fully as possible, continuing to share with others the gift that was given to this group of women.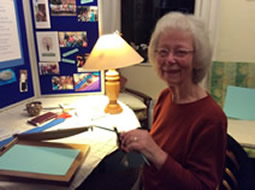 Sr Morag preparing material on La Retraite's history for an exhibition on religious life today.

News Archives