Buen Camino!
Launch of New Facebook Page for the
Camino Walking Retreats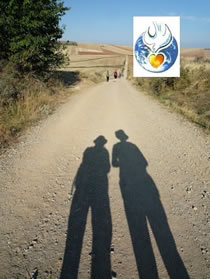 We're happy to announce the launch of our new Facebook page dedicated to the walking retreat which from year to year advances along the Camino of de Santiago, the route which extends from South-western France across the top of Northern Spain and leads to Santiago de Compostella.
The Camino LR Facebook Page is an invitation to young adults (25-40 yrs) to join a walking retreat along part of the Camino, and to benefit from a safe and trusting environment, and atmosphere in which to share insights and all the encouragement and support of being in a group travelling along the Camino together
From 1 st-10 th July 2014 we'll be walking from Leon to Sarria.
The Facebook page is interactive, designed not only to advertise this fourth stage of our Walking Retreat but also to share photos and relevant events from previous years.
We've found that the experience of the Camino is also helped by some physical preparation before setting out and so the page also gives details of some of the walks we've done in the past as well as those being prepared for 2014.
For all further information, dates of the walks, and all the practicalities for next July the first step is definitely to visit the Camino LR FacebookPage by following the link below... and Buen Camino!!
https://www.facebook.com/CaminoLR?ref=hl

News Archives