Praying with Patchwork
Sr Elizabeth Ann Llewellin is passionate about patchwork. She shares here some of her favourite pieces sewn during retreats.
...........I have found that patchwork can help me to express my prayer especially during retreats when time allows for pondering and sewing. The representation may be abstract or express a gospel scene.
...........Sometimes the patchwork is simple, sewing pieces together in squares or stripes or simple shapes. Sometimes it is representational of a colour or a shape used throughout to represent figures in gospel scenes; it may be a simple symbol or selection of colours to bring to mind a passage or mood from scripture - resulting in a more abstract picture. Sometimes embroidery or beads are added to embellish the work. One doesn't have to be a great needlewoman to use fabrics and colours as an aid to prayer.
...........Figures 1, 2 and 3 are a selection from several Ignatian retreats: light and darkness in relationships - the fruits of my labour in the peasants' basket (Deuteronomy 26); the Incarnation: 'He pitched his tent among us' (John 1); a flask for my tears (Psalm 56), or the pot left behind by the woman of Samaria (John 4).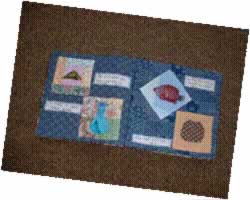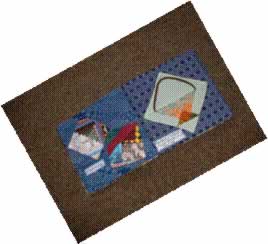 ..........................................................................
Figure 1 Figure 2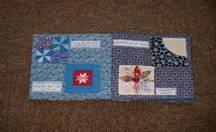 ......... Figure 3
...........Figure 4 was made during a retreat in which I contemplated scenes from the gospel of Mark. In each one the figure of Christ is stitched in beige fabric and a woman in each scene is stitched in red.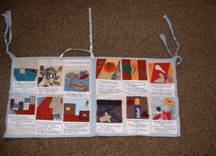 Figure 4
Figures 5, 6 and 7 were stitched during a retreat when I was in a place of hard decision which involved changing my life-style. The figure of Christ is a white circle, variously embellished which changes to gold in the resurrection scenes. This idea was inspired by a series of tableaux by Sue Symons, 'One Man's Journey to Heaven'.
The first one (figure 5) was inspired by the autumn landscape as I drove to the retreat, grey skies, misty distances but 'golden gleams of the Incarnation' shine through the cycle of death and life. Then, (figure 6) the Lord 'leads her into the desert top speak to her heart' (Hosea 1)) and where the Lord is wells spring up and flowers bloom. Martha welcomes Jesus into her house and Mary sits on the cushions at his feet (Luke 10) - I had fun making the cushions! Two acts of loving service are next, Mary anointing the feet of Jesus (John 12), and Jesus washing the feet of his disciples (John 13).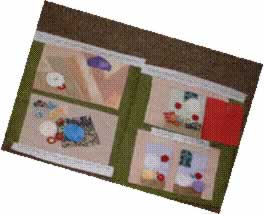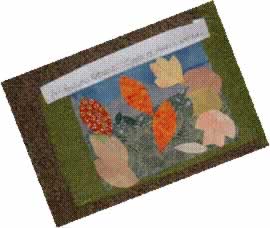 Figure 5 ......................Figure 6
Figure 7 represents the road to Emmaus and the disciples' recognition of Jesus in the breaking of bread (Luke 24).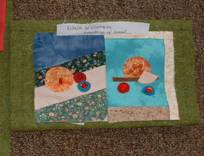 ...................................... Figure 7
The scenes of creation were made during a group retreat (Figure 8) in response to meditations on the poem in Genesis 1. 'Darkness to Light' was simply made by placing appropriate scraps on a circle on the background, covered with net and stitched into place. The retreat was made in September, hence autumn colours in the fruits and leaves to illustrate the creation of vegetation.

Figure 8
...........The 'big' fish (Figure 9) IXΦΥΣ: 'Jesus Christ Son of God Saviour' was embellished during a quiet retreat on the theme of water, a meditation on the presence of Christ among us.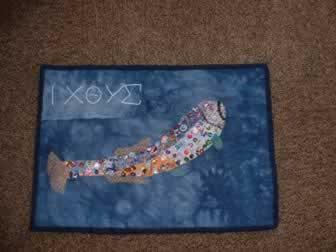 Figure 9
The little fish at the bottom of the middle pond in Figure 10, 'Song of Creation', were embroidered on the same retreat and added to some work done in preparation for a Lent Retreat on the theme of new life. It was completed as 'Song of Creation' during a retreat in May with new life bursting forth all around us.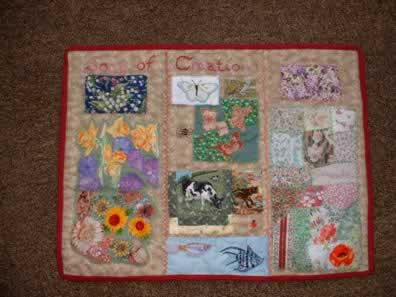 Figure 10
There is much of my inner journeying represented here.
.............I ask you to 'tread softly, for you tread on my prayers'.

More on Prayer