My Vocation Story
How a passion for geography and travel
led Sister Aileen Murphy to discover a passion for the inner journey....
As a youngster I used to play 'Mass' and wanted to be a nun teaching in the missions. As a teen I grew out of the idea but it never seemed too far away. I completed a BA in University College Cork and followed through into teaching at secondary level where to my surprise I found I enjoyed the classroom environment. Being a teacher of Geography my passion for discovering the outer landscape fostered a desire to explore the inner landscape. Visiting an aunt in South Africa was significant threshold: encountering new cultures, beautiful people, poverty, vast distances, stretched me on many levels.
I returned home and continued teaching. A friend was keen to join the La Retraite community, so when she wanted an extended visit of the community in Cameroon, I jumped at the invite to return to Africa. Although we intended to volunteer, God had another plan. Political tensions meant that there was no public travel available or advisable midweek; the collapse of the World Bank, inter-tribal fighting in Marua and cholera in Garou left us with time on our hands in Yaoundé where the only book in English was the history of the Sisters of La Retraite!!! "Come in for a cuppa" was the invite; we stayed a fortnight. Twenty years later I'm still here!!
During the period of discerning if I was to try religious life and with whom, I began spiritual direction. What struck me most about the La Retraites was that they were women of prayer, happy to be with each other and knew what they were about. And although I knew better an Irish congregation, somehow I had to follow my heart and try this path, even if my French wasn't beyond asking directions for the beach!
The initial contact was in Cork and involved visiting the local community a couple of times per week for prayer or a meal. During the summer I experienced my first 8 day retreat and met with more of the sisters. What amazed me was that whatever the language, there was that sense of something in common across all the nationalities: a recognisable attentiveness to the whole person, as reflective listeners seeking the nudging of the Spirit to make choices in growing freedom.
Novitiate was a time for developing personal relationship with Christ, following a sound human and spiritual formation process in a structured community environment. Placements fostered apostolic awareness of those on the margins (homeless shelter, residents in a nursing home); community living in a retreat house context, and meeting other young people at places of pilgrimage. At the end of this period I felt ready to go further in my commitment to God in this way of life and asked to make first vows.
During the 6 years of Temporary Profession, before making any final commitment, I enjoyed living in Birmingham with outreach into more active ministry. I worked as a school chaplain in St. Paul's, Edgbaston, and in Thomas Aquinas, Northfield, and I also completed ongoing professional development through an MA in Pastoral Studies. My final vows took place in St John and St Martin, our parish church in Basall Heath. This was a joyful, wonderful, celebration during which I received my mission to be part of the community in Galway, where I now work in school retreats and spiritual companioning. The adventure is ongoing!! Through all the ups and downs, each day is another opportunity to follow the One who is The Way, Truth and Life. I thank God and my sisters for this journey.
Companions on the journey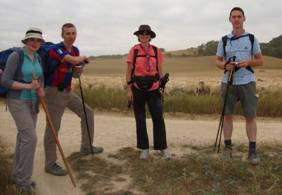 Adapted from a similar article that appeared in Catholic Today, the newspaper of the Archdiocese of Birmingham during 2011.